Contact Details
Address:
Hertz Ireland Head Office, Ferrybank, Wexford
Phone:
+353 (0)53 915 2500
Reservations:
Hertz Worldwide: +353 (0)1 6767 476
From UK: 08708 44 88 44
From US: 1 800 654 3001
Office Locations
Dublin Airport
Dublin City
Shannon Airport
Cork Airport
Belfast International Airport
Belfast City Airport
City of Derry Airport
Kerry Airport
Knock Airport
Waterford Airport
Wexford
Additional Details
About Hertz Rent a Car
International Franchise: Hertz Rent A Car
Hertz is Ireland's number one car Rental Company offering the largest and latest fleet of cars in the north and south with locations in all major Airports, our in-airport counters and ExpressRent packaged with our ideally situated cars get you away on your Journey in a flash.. Hertz is also the world's leading vehicle renting organization, operates from approximately 7,700 locations in 145 countries worldwide. We invented car hire!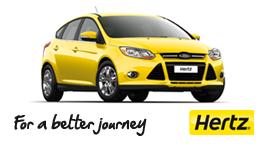 Collections
We offer the widest range of car collections from our family collection, fun collection, green collection and prestige collection throughout Ireland to suit your every need all at unbeatable prices. Beat the queues with Hertz gold sign up for free now and enjoy all the benefits of a gold member.
Price
Hertz.ie offers the most competitive rates along with no hidden costs and with fully inclusive pricing you can drive away knowing you have no more to pay, giving us that reliability that you can trust. Enjoy great saving's when you book online. Check out our special offers on a regular basis for further savings to be made, we always have great offers! You can also Sign up to receive Hertz special offer's via email.
Service
Hertz offers a first class before and after customer service. We leave nothing to chance, leaving you with total peace of mind throughout your journey. For a full review of all our products and services please visit our website.
Links
Contact Us

E-Mail: info@carrentalcouncil.ie
Rent Direct from a Car Rental Council Member
There are many organisations offering car rental services but avoid confusion and for your own protection make your reservation directly with an approved car rental company. The Car Rental Council does not offer a reservation service on this website. However you are welcome to click on any of the member company links to access company websites where you will find contact details and reservation facilities. Click for Guidelines on renting a car in Ireland >>